.................................................................................................
.................................................................................................
As Jamaica recovered from the effects of a near-miss by Hurricane Allen, 'Green Leaf' returned to her 'cri de coeur' about Fern Gully which she had first uttered two decades before.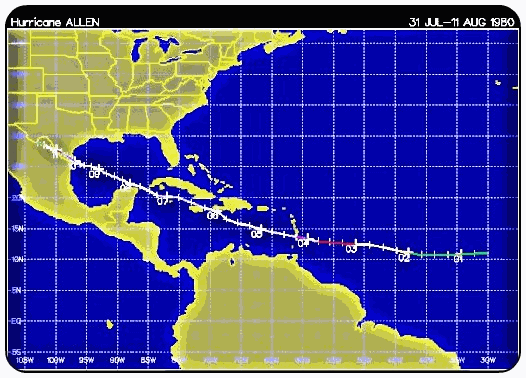 In early August 1980, Hurricane Allen appeared to be approaching Jamaica head-on, but veered north bringing most destruction to the NE parishes of Portland and St Mary, but the other northern parishes, including St Ann, suffered especially from the storm surge.
..........................................
Daily Gleaner
, August 24, 1980
Can this irreplaceable treasure be saved?
Fern Gully threatened by erosion
BY GREEN LEAF
Jamaica's unique, natural garden, Fern Gully, with

a population of scores of fern species, a few

bromeliads, aeroids and a canopy of indigenous

trees, including the impressive "Anchovy pear,"

is threatened by erosion and toxicality. Human

vandalism is minimal.
Fern Gully is well advanced to being a disaster

area. Can this precious and famous treasure be

saved? Is the Gardens Advisory Committee aware

of impending loss, and if so, what is this

Committee's proposal to halt loss?

Deterioration proceeds at such a rate that within a few years people will question why Fern Gully was

so named. All that will remain is a limestone ravine

bisected by a narrow, serpentine road that links

verdant Walker's Wood and Ocho Rios.
Ocho Rios and by extension the entire northcoast is rapidly expanding as a vacation district which stands to forever lose the irreplaceable treasure of Fern Gully.

Not the greatest expenditure of money nor skills of dedicated gardeners could duplicate Fern Gully. What is the reaction to this threat? Do horticultural societies and their related natural history companions or the Tourist Board care?

How fatally doomed is Fern Gully as

demonstrated by comparing the present

appearance of this gorge with a postal pictoral

card made, I suspect, 50 or 60 years ago by the

photographers, Cleary and Elliot, in their series of

Jamaican beauty spots. About that time too, the

Jamaican Post Office issued a similar set of scenic
postal stamps. Both postcard and stamp show Fern Gully inhabited by a species so luxuriant that a

man and buggy included in the scene are barely

discernable.
....................................................
Disaster in Fern Gully is caused by inter-related factors. They are motor traffic and erosion.

Motor traffic intensifies wherever wealth, in this case the wealth activated by the bauxite industry,

results in distributed prosperity. Fumes exhaled by

engines harm plant life by fouling the atmosphere,

by overlaying plant parts (leaves, stems, exposed

roots) and soil with an adhesive film.
On the film are deposited panicles of dust. An

impenetrable coating is sealed on preventing the plants from breathing. They suffocate and

eventually die. Only the most competitive survive.

Indeed, many scientists now marvel that any plants

at all still live in Fern Gully.
A secondary attack on Fern Gully vegetation is vibration from vehicular traffic. This weakens

soil layers, thereby discouraging and disturbing

root anchorage. Thus the roots become unable to

supply nutrients to plants.
Thirdly, Fern Gully has the enemy of erosion. The process in Fern Gully is maximised by that very factor of steep, damp limestone cliffs which originally induced the natural establishment of fern colonies.
The Flora flood alerted the late Vernon James,

then Superintendent of Parks and Gardens, to losses in Fern Gully. He utilised fallen trees as barriers and re-planted fern. The task lacked supervision. Workers concentrated on Roosevelt fern because it is abundant in that area. I urged Mr. James to save the nephrolepis and adiantum.
Even if they are replanted who would care for

them, he objected. I now realise that their spores

would not survive the toxic fumes.
In the 16 years since, Fern Gully's denudement continued. Among the notable casualties are fern

allies and mosses which are among the treasures of

Fern Gully.
The total ecology is shattered. Could Fern Gully

be rehabilitated by say closing the road to motor

vehicular traffic and diverting this to the by pass?
Yet that alone is insufficient Other agencies are

essential. Very little time remains to save Fern

Gully from complete wreck. Is the Ministry of

Agriculture whose responsibility is Fern Gully,

prepared to act on whatever recommendations

might be advanced by the Gardens Advisory

Committee?
For there are several practical alternatives to that of passively awaiting death in Fern Gully.
and there were others who shared her concerns
Daily Gleaner
, September 7, 1980
From the mail-bag:
FERN GULLY: Thank you most sincerely for your splendid article calling attention to the dangers

that beset Fern Gully. Many persons have

commented upon it yet none of us know what could

be done by citizens to protect this place from being as you stressed, forever lost.

M.S. St. Ann's Bay.
I am impressed by what you wrote about the

destruction of Fern Gully. I, too, have noticed that

it is sadly deteriorating year after year. Surely the

citizens of St. Ann and especially those around

Ocho Rios who benefit from this tourist attraction

should do something to halt destruction!
Of course, all Jamaicans stand to lose if Fern Gully

is destroyed, but it is Ocho Rios that would lose the

most.
CONCERNED. Montego Bay.
Daily Gleaner, September 14, 1980

From the mail-bag:
FERN GULLY: Let me add my own big Thanks to

you for your moving article on the impending loss of

Fern Gully. Several people who read the article are

saying that it could not have been more timely.
Also, do you know that hurricane Allen additionally destroyed this beauty spot by rooting

out many trees with the result that the ferns are

fully exposed to harsh daylight?
E. Brown, Port Maria, St. Mary.
a reminder from the Duperly photographers,
probably the island's most famous,
of Fern Gully in the 1920s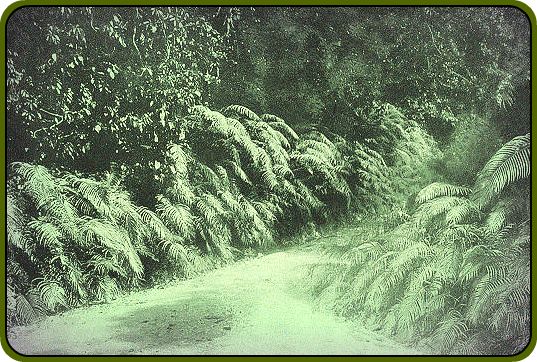 ....................................................

The destruction of the natural environment of Fern Gully involved not only ferns and other plants, but also the fauna, especially, it seems, the '

Partridges of Fern Gully

'.
....................................................
In the mid-1980s there was an attempt to restore Fern Gully
and deal with some of the problems there
.
Daily Gleaner,
January 18,
1981
FERN GULLY TO BE A NATIONAL PARK
Fern Gully, in Ocho Rios, North-East St. Ann, is to be made a national park by the Government,

at a cost of $1.9 million.
Included in the project is a by-pass road from Breadnut Hill. This will provide for the blocking

off of vehicular traffic through Fern Gully at a certain point. But the detour would be arranged

in such a close proximity to the scenic spot that visitors using vehicles would encounter no

problem walking to the park from their transport. More . . .



Whatever else was happening the route of cycle races seems inevitably to have passed through Fern Gully.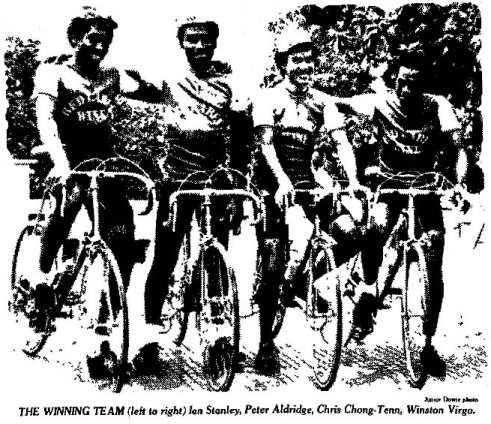 Daily Gleaner
, May 25, 1982
Jamaica win 'Red Label' Cycling road race
Peter Aldridge the hero
The Jamaica "A" team led by 21 -year-old Peter

Aldridge won the 4-stage "Red Label Wine"

International Cycling Road race which ended

yesterday.
Yesterday. Aldridge added the icing to the cake when he came in by a whisker in front of Puerto

Rico's Ramon Rivera in the 54-mile Ocho Rios

to Kingston final leg in the extraordinary time

of 2 hours 55 minutes and 48 seconds

surmounting the backbone of the island up Fern

Gully and the Mount Diablo range.
Daily Gleaner
, March 21, 1985
Virgo overthrows Aldridge in 58-mile road race
The sprint for the finish was expected some-where along the Fern Gully descent, and it came as no surprise when

Everton Brown broke the pcae and sped forward. Chase was given by Aldridge, followed by the main group. The

surprise came when a tiring Aldridge caught up with Brown, and Virgo, in a well-calculated move, sprinted to leave

the others behind.
Daily Gleaner
, April 5, 1986
Kingston to Ocho Rios cycle race today
The Kentucky Fried Chicken/Jamaica Amateur Cycling Association (JACA) cycling season continues this

morning with a 66-mile journey from Kingston to Ocho Rios. The race begins at 10:00.
Over 75 cyclists comprising senior and juniors will hit the trail which should be gruelling. The race starts at the

Kentucky Fried Chicken Special store on King Street and ends at the Main Street branch in Ocho Rios.
Last year's winner Winston Virgo from Montego Bay will be hoping to retain his title. However, he will have stiff

competitions from champion rider Peter Aldridge, Franklyn Taylor, Patrick Grant, Lorenzo Murdock, and Michael Manderson.
The cyclists will travel through the steep Mount Diablo, and the winding rush of Fern Gully. Young riders such as

Ricardo Housen, Mark Collins, Kirk Catnott, could find the journey taxing, and will probably have difficulty

maintaining pace with the top 'A' Class riders.



'We affi meck a stop ina Fern Gully'
from 'Jamaica Land We Love', Singer Jay's entry
for the Festival Song Contest, 1988

Easton Clarke a.k.a. Singer Jay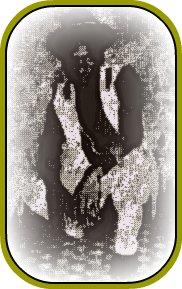 In mid-September 1988 Jamaica was hit head-on by its first major hurricane since Charlie in 1951. The online Gleaner archive is almost non-existent for the days after the hurricane hit, so the only comment about Gilbert's impact on Fern Gully that I have found, so far, comes from - mandevilleweekly.com:
'It still remains attractive with banks

of ferns and other plants forming a

canopy. Prior to the damage caused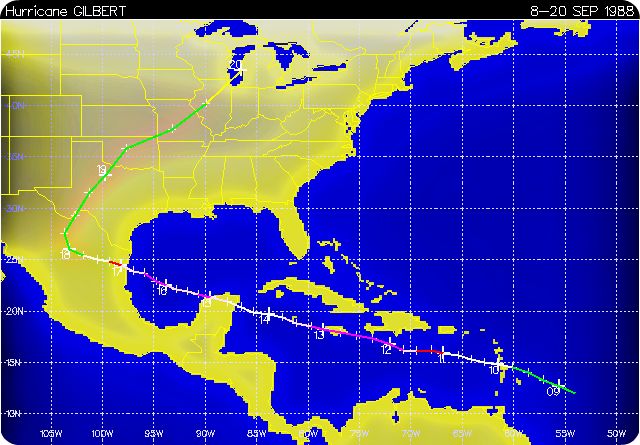 by Hurricane Gilbert, motor vehicles traversing Fern Gully would need to use headlights at all

times but that is no longer the case.'
Presumably Gilbert had undone some of whatever good had been done by the restoration efforts in 1983-4, leaving Fern Gully to be described in the following decade in much the same despairing terms as in earlier decades.

.................................................................................................
. . . the century's final decade
Sadly 1990 saw the departure of Aimee Webster deLisser, who died on October 6th. She left behind a fine journalistic legacy dating from the 1930s when she was a pioneering young woman reporter. Her profound concern for the preservation of Jamaica's natural heritage is clear in her writings quoted on this site.
But the story of Fern Gully continued along the same old tracks. A writer in the
Gleaner
in April 1990 wrote: 'Fern Gully is deteriorating because of the effect of fumes from heavy traffic'
Daily Gleaner
, April 4, 1990
In October 1990 Marjorie Stair complained about the road blocks:

. . . the particular road block was at the entrance to Fern Gully. The people had blocked the road because they claimed they had not received any water for several days. They chose the day that the tourist buses visit the area to block the road.
The irony of the situation was that I drove behind the truck which was taking water into the area, almost the full length Of Fern Gully. The minute the truck driver realised that the road was still blocked, was the minute he backed his (the National Water Commission truck) into an intersection, turned the truck around and went back whence he came with the water. Daily Gleaner, October 29, 1990

In the following year the Ocho Rios Chamber of Commerce tried once again to urge the preservation of surrounding environment:

Fern Gully: the value of which as a beauty spot Is being eroded by squatting and littering. Meanwhile, the destruction of plant species from exhaust fumes continues. The Chamber endorses a recommendation that an alternate route via Breadnut Hill be developed to ease the pressure on Fern Gully and that the attraction be cleared of all shacks and advertisements.

Daily Gleaner, December 7, 1991
Towards the end of 1992 three well-known Jamaicans added their voices to the cries of despair about Fern Gully - Norma Soas wrote an anguished article in the Daily Gleaner, which drew equally heart-felt responses from Desmond Henry and Morris Cargill. more >>>

The
Gleaner
Editorial for
May 7, 1996
Closing Fern Gully

All lovers of Jamaica's natural beauty will applaud the move made recently in the Senate to
have the Fern Gully restored to something of its pristine attractiveness, by limiting its use as a
main road. The traffic which passes daily through this scenic gorge has taken a heavy toll of it,
rendering it more of an eyesore than a beauty spot.
There was a time when this picturesque natural garden of luxuriant ferns and other forest plants and trees was a delight to the eye and a balm to the senses. The canopy created by the
spreading overhead branches formed a natural screen through which the sunlight filtered in a pleasing pattern of light and shade. Descriptions of Jamaica's beauty never failed to include
Fern Gully as one of the country's prime natural attractions.
Today, very little of this pristine beauty remains. Men and machines have combined to bring virtual ruin to Fern Gully. Much of the natural vegetation has disappeared, destroyed as much
by vandals as by the noxious fumes from the trucks, tankers and buses which pass through it
daily with destructive regularity.
While it might not be practicable to close the gorge completely to vehicular traffic - at least
until a viable alternative route can be provided - it might be possible to limit its use only to
motor cars, diverting the trucks and buses and other heavy-duty vehicles to another route.
With the emphasis being placed on the importance of Tourism to the Jamaican economy, it would seem to make sense to preserve Fern Gully as a scenic drive and as one of the country's
beauty spots. Whatever inconvenience might be caused by its closure to heavy traffic, this can
surely be outweighed by the advantage to be gained by having such a natural asset being used
as a real tourist attraction.
In August 1997 a contributor to the Gleaner wrote of travelling to Montego Bay during the Emancipation-Independence holidays, and summoned up the spirit of Aimee Webster deLisser to plead once more for her beloved, but still battered, Fern Gully.
Daily Gleaner, August 9, 1997
In passing through Fern Gully it was patently clear that this piece of our natural heritage was
systematically being eroded and that we as the generation which will inherit it, will be without

the benefits of this national repository of ferns - some of which can only be found in Jamaica.

We need to understand that the preservation of Fern Gully will necessitate the co-operation of

all the stakeholders active participation but, moreso, they must all understand that there must

come a time when personal interest/profit must not be so insistent on having its own way - that

time is now.
I have watched with horror the decimation of this community of greenery and my ears now ring

with the persistent pleas of the late Aimee Webster Delisser as she begged for the rescue of this

important part of our natural history. Something has to be done to rescue and resuscitate this

valley which has been home to thousands of ferns and which at the same time provided a true Jamaican/tropical welcome to the North Coast.

.................................................................................................
EDITORIAL
Tourism prospect

There is also good news about Port Antonio, another of our
tourist towns.
. . .
Not so good, however, is the report that the hoped-for improvement of Fern Gully has not been realised. As one of the best-known visitor attractions of the island, Fern Gully deserves to be given maximum attention to restore and preserve its pristine beauty. How disappointing to be told that it is still in a deplorable condition.

Daily Gleaner,
November 28, 1999
.................................................................................................