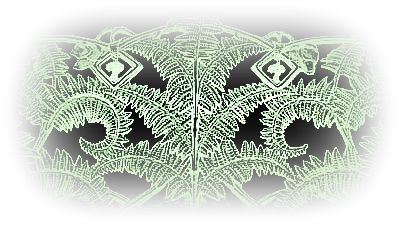 It was in the Victorian era, however, that man's passion

for them reached its zenith. The craze for collecting ferns

in this period reached such epidemic proportions that it

affected the very existence of the plants themselves.

Although in previous centuries ferns were valued for

their medicinal worth, and played an important role in

customs and folklore, it was only in Victorian times that

they were coveted for aesthetic reasons. Ferns were

proudly displayed in homes, either alive or dead. It was

fashionable for ladies, especially, to compile albums of
pressed ferns. . . .
In the latter stages of the 19th century the interest in

ferns changed from an obsession with their collection to

their cultivation. The mania also spread from the living

plant to depicting it in stone, iron and glass. Even roads,

and terraced houses were named after the fern.
'Rambles Through Fernland' : The Victorians' Passion for Ferns

.................................................................................................
'Jamaica is celebrated for its magnificent ferns.'
Jamaica appears to have shared at least something of the passion for ferns which had developed in Victorian England, and it may well be that the Fern Gully phenomenon was
to an extent

just a part of the 'Fern Craze'.
Jamaican ferns had been creating interest at least since the 17th
century.
Hans
Sloane had 32 pages of ferns in his
Natural History of Jamaica.
Sloane reportedly visited the Ocho Rios area, but I have seen no reference to a Fern Gully.
Jamaica, interestingly, played an important role in the history of fern cultivation. In the late 18th century,
DR. JOHN LINDSAY

, one of the numerous Scots medics and scientists who have lived in the island, finally figured out how ferns reproduced, a puzzle which had long perplexed botanists and others. The ability to propagate ferns led to an growing enthusiasm for them in gardens and homes, and spawned the 'Fern Craze' in Victorian England.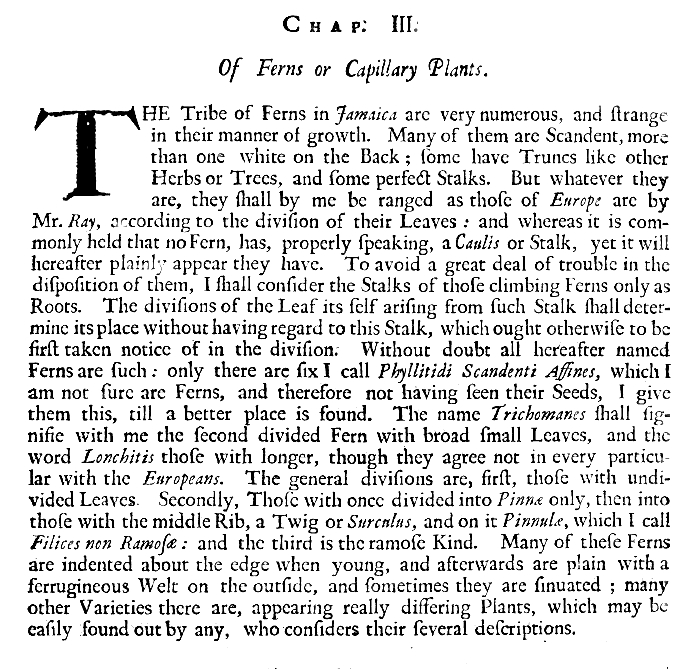 Polypodium Effusium
(Jamaica)
 c.1850
 In the 1850s a remarkable woman, Anna Atkins, whose husband owned coffee estates in Jamaica, used an early photographic process, the cyanotype process, to create incredibly beautiful images of botanical specimens, including Jamaican ferns.
For more of these wonderful images go to:
       

Daily Gleane

r

, Jamuary 28, 1867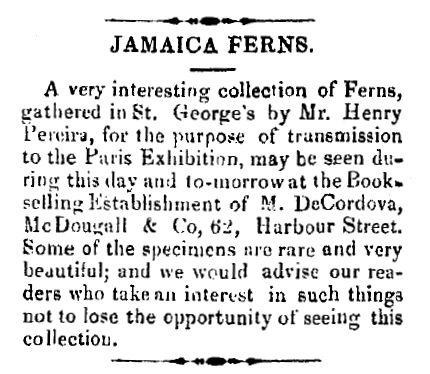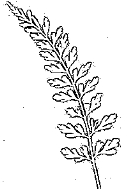 .............................

Jamaican Exhibitions and Flower Shows, and so on . . .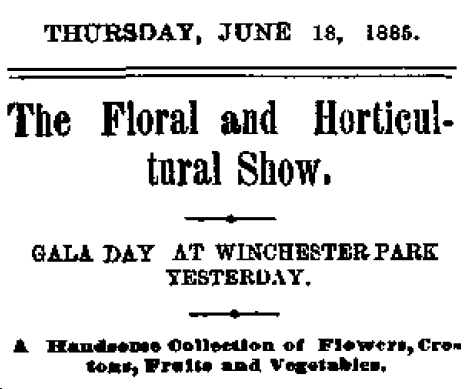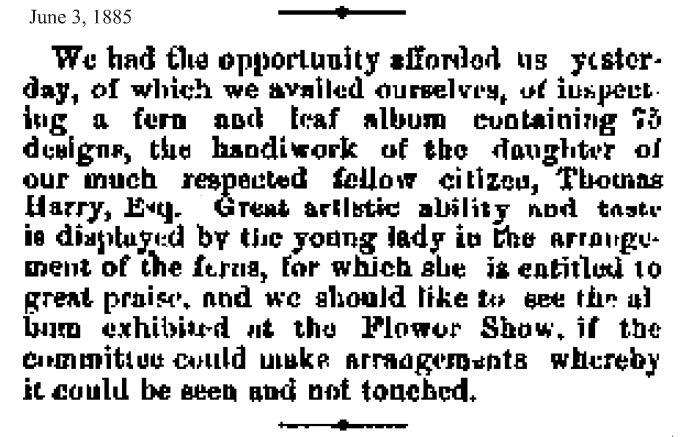 Thomas Harry was a Black shoe-maker and politician, who was arrested during the 1865 'Rebellion' and taken, illegally,  to Morant Bay. He was among those who, unlike  George William Gordon, survived and continued to participate in political activity.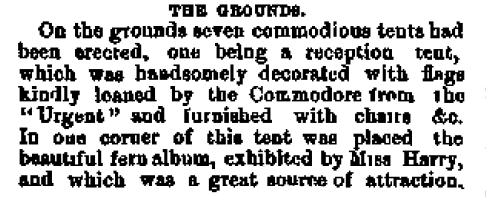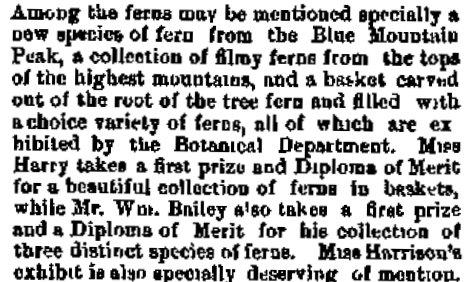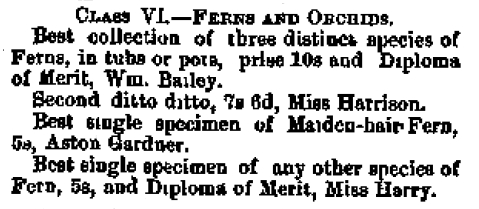 Jamaica at the Colonial and Indian Exhibition, 1886
 Jamaica will also be able to draw upon her exquisite varieties of ferns and tree-ferns, her lovely flowers and the least perishable of her fruits; in fact, with all the resources at her command, she ought to be able to present a show as attractive as any in the building.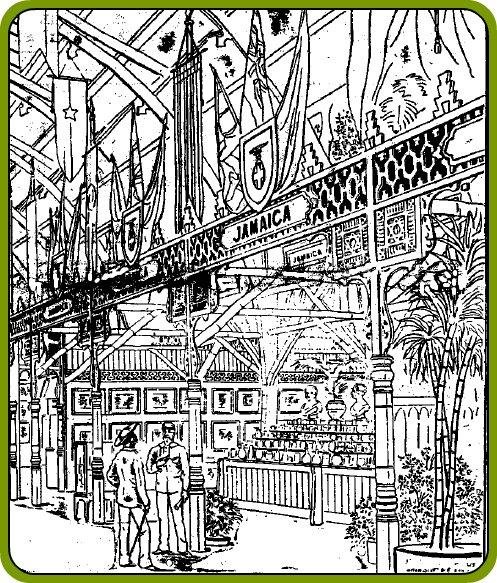 Jamaican International Exhibition, 1891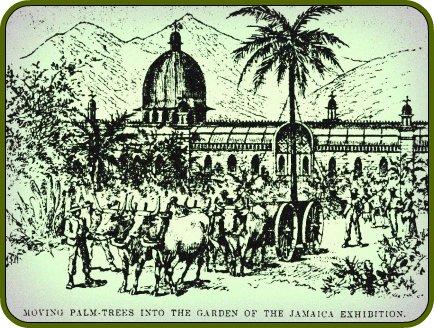 Preparations
Daily Gleaner,

February 21, 1890
A great feature in the laying out of the grounds will be a large variety of tree ferns. Many of the paths will be planted with avenues of these giant ferns which will lend a specially beautiful aspect to the gardens.There will be no hedges planted around the gardens, but the fences will be overgrown with flowering creepers of every variety. The interior of the building will be beautified with flowering plants, ferns, etc., and the Botanical Gardens people have already some three thousand flowerpots filled with roses and other plants in preparation for this purpose.
The Governor, Sir Henry Blake: 'The tree-movers will be here about the end of March and then we will commence moving palms and other large trees. I have already made preparations at King's House for taking up some palms growing there, and at the Botanical Gardens hundreds of tree ferns have been taken up and placed in tubs ready for removal.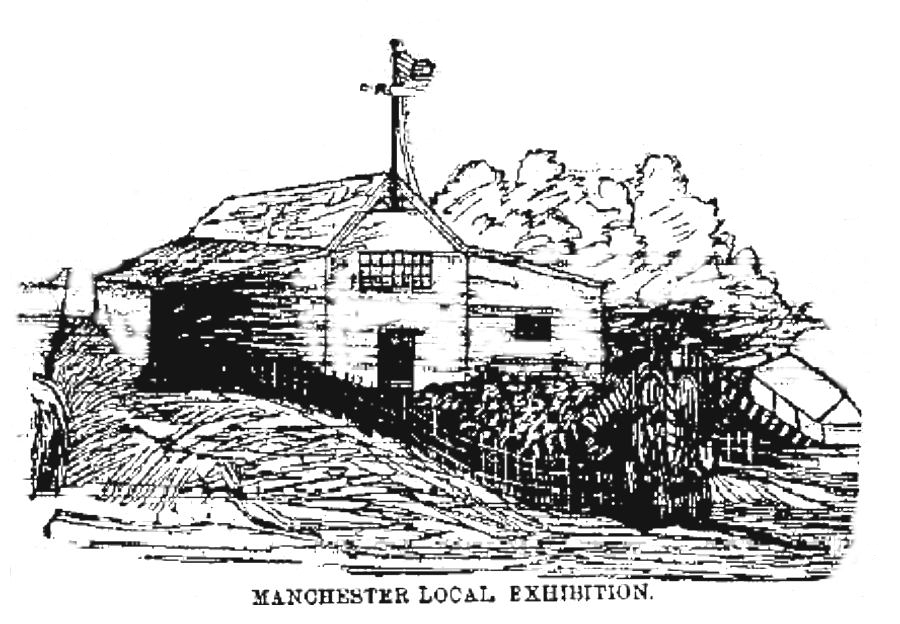 In the run-up to the 1891 Exhibition there were Parish Exhibitions around the island. Excerpts from reports show that fern work featured in these local Exhibitions.


Daily Gleaner, November 14, 1890

St Catherine Exhibition
Mrs J. A. S. Vaz, the wife of the energetic Secretary of the

Exhibition shows pressed ferns most artistically arranged in frames, the work of her own

hands.
Daily Gleaner
, November 24, 1890
Manchester Exhibition
An excellent exhibit was a rustic bracket

made from the arrows of the wild cane gathered on the banks of the Milk River;

and two photo frames of the same material

with ferns, both exhibits being shown by Miss E. A. Bonitto, Mandeville. Another Mandeville lady, Miss Scharschmidt, exhibited some beautiful and artistic work, fans made of ferns and lace bark, and palm
screens hand-painted.

Fern Albums
'FernAlbums, elaborately bound, Morocco,  
toned card board, to hold 100 ferns   15s 
This when filled will make a good present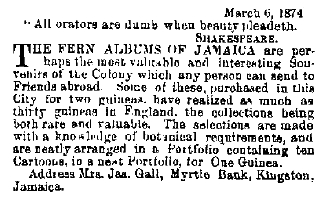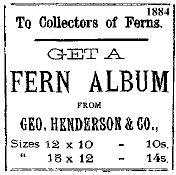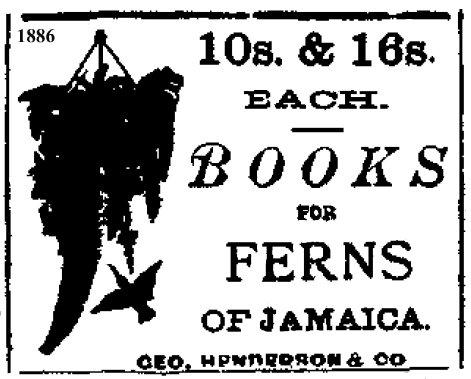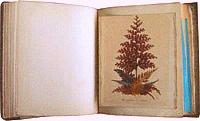 I apologise for the gaps in the advertisement, but this
is the best I could do, comparing four copies of the advert,
all very messy and blurred!
In the

Daily Gleaner

in 1878
You must ask to see Mr. Gall's collection

of Jamaica Ferns, collected from all parts of the island, very beautifully preserved, and mounted on card-board, each Sheet containing a very large variety of Ferns.
► Ask to see Gall's Fern Albums, 21s
which are gorgeous; they are not only

wonderful for the variety of their Ferns,

but also for the magnificent manner
in which they are arranged, so as to

present not only anatural, but very

pleasing effect.
OUR FERN ALBUMS
In no other country – we may venture to assert
this, albeit
no great Botanist – is to be
found so
beautiful or diversified a distribution of Ferns as
can be gathered
within Jamaica.
From the
broadest leaf to the most
delicately designed
lace-work of Nature's tracery, the most beautiful
vegetable life is developed so clearly as to make
specimens of these plants an absolute necessity as
well for every Museum as for the Library of the
student, or
for the Drawing-room table of those
who, with their c/vases[?] of growing Ferns in
the window alcove, desire to compare the living
family of local habitat with that of far-distant and
foreign countries.
In furtherance of this idea – and we shall be

thanked for the information we now impart

- there can be purchased in Kingston Fern

Albums containing ten [graceful?] [specimens?] of Jamaica Ferns, not only

tastefully, but artistically arranged for

preservation and study. Each group is

carefully selected with reference to affording [specimens] of the abundant fertility of

nature in the growth and variety of these

delicate plants, while the method of

preservation affords full security to their [possessors?] that they will endure for any

period so long as but ordinary care is taken

when removed from the Album for display.

It affords us pleasure to notice that these

collections are the work of Mrs James Gall

of Myrtle Bank, Kingston and to add that,

as memorials of affection to absent friends,

particularly to fair cousins at home, no more

graceful or acceptable present could be
conceived. Setting aside their value to

Botanical research, as specimens of what

Jamaica can achieve in native production,

they are as creditable to the Colony as they

are to the lady whose admirable taste has taken a [direction? rty] to make these albums a speciality for the strangers visiting the Colony. To [ ] to [ ] and to admire and so to purchase.
-
County Union

.............................
As late as 1915, Astley Clerk, the secretary of the Jamaica Local

Literary Association, was responsible for a volume of the Association's Magazine - Vol 2 No11 (March 1915) -

which was a special issue on ferns of Jamaica,

containing pressed and dried specimens.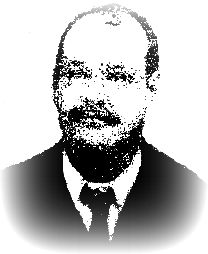 .................................................................................................