Motor cycles through Fern Gully
Newspaper reports from 1927-8 show that Fern Gully was perceived as something of a challenge to motor cycles, as it was to motor cars. The problems caused by using the Gully as a major cross-island route were already being created.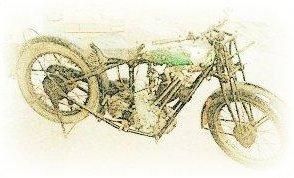 Daily Gleaner, May 25, 1927

OUTING OF MOTOR CYCLISTS.
Yesterday morning members of the Jamaica Motor Cycle

Association 32 in number, left Kingston on an outing to Dunn's

River. The day was an ideal one for motor cycling and the run

was very delightful in spite of a few falls. Arriving by way of the

Fern Gully at Dunn's River, the party had a picnic and enjoyed

bathing in sea and river. They then left for the homeward

journey going around St. Ann's Bay, where luncheon was served.

Rain fell between Bog Walk and Kingston but this did not in any

way affect the spirit of the cyclists.
Daily Gleaner, May 26, 1927

EXCURSION OF MOTOR CYCLISTS TO DUNN'S RIVER
. . .
Fern Gully was the next point of intense excitement. The

negotiation of the curves at this point was superb and only one rider - on a Francis-Barnett - came to grief. This augers well for

the organizers and is a tribute to the controlability of the motor

cycle.
It is with reluctance that we have to report ignorance, selfishness

and inconsideration on the part of chauffeurs and taxi-men who, on many occasions, were guilty of most indiscretionate driving.

Several of the motor cyclists, while travelling on their correct side, were forced into ditches and had not the machines, on such

occasions, been skilfully handled, the results would have been

disastrous. . . .
In 1928 motor cyclists celebrated August 1st with a major reliability trial.
Daily Gleaner
, July 24, 1928
The Motor Cycle Reliability Trial
The first stop for a rest will be at Ocho Rios, not Rio Nuevo as

stated yesterday. Fern Gully is a stiff climb and one wonders if

riders will be able to enjoy the exquisite scenery. No doubt they

will appreciate the cool shade for around 9 a.m. the sun will be

making its presence felt.
Daily Gleaner, August 3, 1928

Bubb Clark (B.S.A.) reckoned that he had a narrow escape from

destruction. "I was going up Fern Gully," he said, " in second

speed at 12 to 15 m.p.h. A motor car came down on the wrong side and if I had not promptly run into the bank and jumped off

there would have been a collision. My front mud guard and lamp

were damaged and the foot rest was bent."