John Hinchley Hart (1847-1911)
John Hinchley Hart was one of the many British scientists who were, over three centuries, responsible for researching Jamaica's natural environment, its flora and fauna.
He was in Jamaica from 1876 to 1887, holding increasingly more responsible posts in the Agricultural and Botanic Gardens departments, and employing his skills as a landscape gardener. He was an acknowledged expert on the cacao and rubber trees, but also had an extensive knowledge of Jamaica's ferns, as he showed in an illustrated lecture in
Kingston in late 1886. In her
Encyclopedia of Jamaican Heritage
(2004) Olive Senior has written that Fern Gully was planted out in the 1880s by 'a Superintendent of Public Gardens'; that title could possibly fit
J H Hart, so I am continuing to see if there is actual
evidence identifying an individual who planted the ferns in Fern Gully.


(

apologies for the poor quality of the reproduction of the article below; it was the best I could do!

)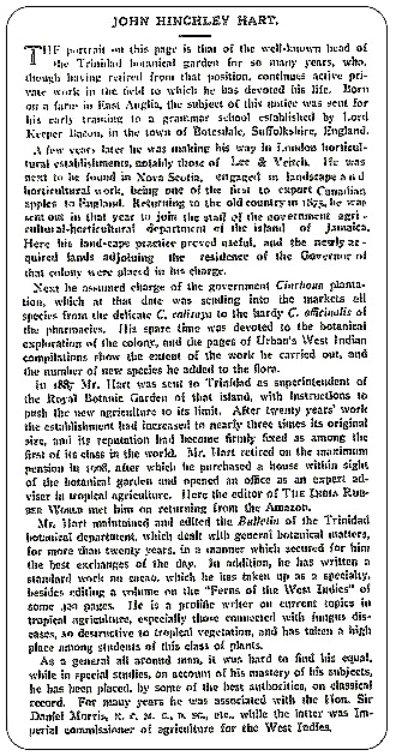 from
The India Rubber World,
November 1, 1910